Thank You For Purchasing
"PR for Legal Professionals"
PLEASE NOTE: Your credit card statement will show a charge form
CLICK BANK.


You will now Download Your Purchase.
Read all Instructions CAREFULLY!
PR For Legal Professionals is published for viewing in the free Adobe Reader (.pdf)... absolutely the best and easiest way to view the material!

You can print ONE COPY of each or save to disk and view on your computer.
You MAY NOT resell or redistribute any of these materials.
If you have any problems downloading the ebooks... Don't panic!!
Simply use the "Contact Us" button, in the site navigation area (left) to send us an email.
Special Download Instructions
***You must have Adobe Reader to view the ebook PDF files.***
If you don't have Adobe Reader, left click the link below to get it/upgrade FREE ===> Get Adobe Reader FREE
Note - Clicking the Adobe Reader link will open a NEW page in your browser so you don't lose this download page.


Download


PR for Legal Professionals "Right mouse click" the following link:

Download PR For Legal Professionals
You'll see a menu like the one to the right open up.
(MAC users just click the link and hold down on the mouse button)
In Internet Explorer Choose "Save Target As..." and download the file to your desktop (in Firefox you choose "Save Link As..").
Perform the same download steps for each of the bonuses also.
Once you select "save target as" or "save link as" a download screen will come up (example below) asking you where you want to save the file to on your computer.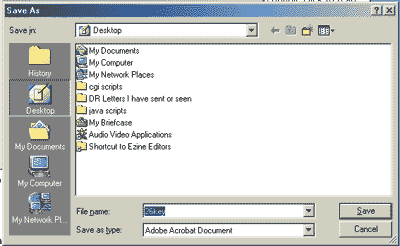 You should save the files to your "Desktop" or another folder you can easily find. Once you have downloaded the file, go to your desktop or the folder you saved it to and double click the file to open it.
This should launch Adobe Acrobat Reader and automatically display the ebook.
Download the BONUSES
All three bonuses,
"Action Plan Template", "Media Interview Tips", and "Sample Packets"
are contained in one zip file.
Right-click the link and choose "Save Link As".


Download All 3 Bonuses by Clicking Here